> >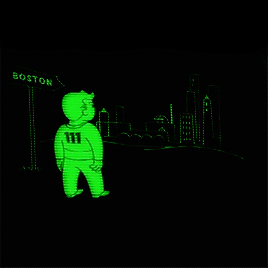 CASE FILE: TAHANI
Named after my favorite character on The Good Place, Tahani was (is?) my favorite Fallout character I've created ever! Though she's early on in her game, I've gotten up to so many ridiculous adventures with her it's been a genuinely amazing time.
TAHANI'S SETTLEMENTS
STARLIGHT - A fully stocked town, including a nightclub and a supermarket with real display shelves!
NORDHAGEN MANSION - A gigantic, glassy Long Island style beach mansion with a cabana for visiting traders.
THE SLOG - The pinnacle of The Slog, which Tahani has kept as a ghouls rule settlement, is a gorgeous three-storey hotel with a restaurant, bar, and working elevators.
SUNSHINE UNIVERSITY - Tahani's proudest achievement, Sunshine University was built on the remains of the Sunshine Co-op, and boasted a huge array of resources. It had a medical wing with surgery facilities, a student union with a bright cafe and plenty of soda machines and billiards to play, cabin-style dorm rooms well-stocked with trunks and rugs, a University Bookstore with magazines on display and oddments for sale, and, of course, a student radio station upon which an ostentatious radio antennae perched, ready to beckon prospective students in via a settlement recruitment beacon. Unfortunately, Sunshine University was mostly lost in a partial save corruption; though Tahani's work was largely ruined, she was happy, at least, to still exist, unlike her unfortunate sister Katya.
THE MUSEUM OF TAHANI - Based at Red Rocket Truck Stop, Tahani wasted no time in erecting a magnificent monument to her deeds, much like her namesake might've. Artefacts currently located within the Museum of Tahani include Arlen's Giddy-Up Buttercup prototype (his story and questline touched her deeply!), a trophy from the big-ass legendary mudcrab that's the size of a house (or at least that's how Tahani remembers it), and a unique Raider mask in the shape of a bear.
TAHANI'S RELATIONSHIPS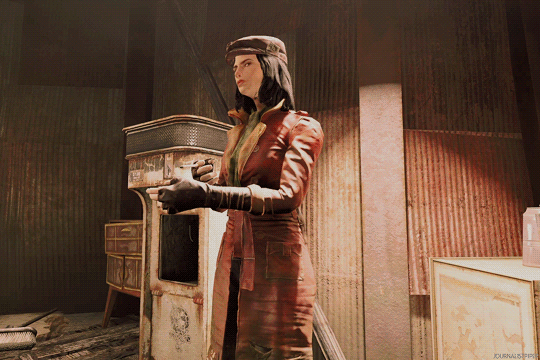 PIPER - Very happy to have a friend in the Wastes, especially one who cares so much about her surroundings, Tahani quickly found a close friend in Piper, though she hasn't quite decided if she feels any more than friends with her yet.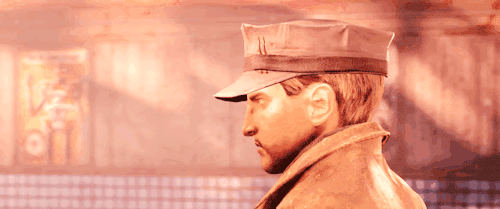 MACREADY - Surprised to be bumping into the former Mayor of Little Lamplight again, who she knew in another life, Tahani set about helping him out with his unfinished business. Rather awkardly, she found herself growing a bit fond of Macready, but hasn't been able to bring it up without thinking of a million reasons why not.
NICK VALENTINE - Tahani has been adventuring with Nick since they met after she went looking for him off of a tip from his secretary at the Valentine Detective Agency. After working several cases with him, including the Case of the Golden Grasshopper and Tahani's own confrontation with the man who kidnapped her son, Kellogg, the two were thick as thieves. Nick seems to see the do-gooder side of Tahani, which is honestly just her meddling and trying to inject herself into other people's business while inadvertently helping them along the way.
They've lots of cases left to solve, and Tahani can't wait to take Nick along on her future adventures outside the commonwealth in Far Harbor!
TAHANI'S SKILLS
LOCKPICKING - You can't keep her out of anything! She's adventuring with Nick Valentine right now, so Tahani hasn't felt the need to skill up on her hacking just yet. He's doing a brilliant job!
TAHANI'S CURRENT LOADOUT
+ Grandpa Savoldi's Hat
+ Minutemen General's Armor
> >
> >